POS stands for point of sale and is traditionally where a customer makes a payment in exchange for goods or services. However, to many restauranteurs the word has gotten a whole new meaning, due to the changing restaurant environment, to point of service.
A POS is much more than payment transactions
A POS system today is much more than just touch screens, payment terminals, printers and other hard- and software options enabling a transaction.
Modern POS systems provide an entire platform where the restauranteurs can access table charts, menus along with data and analytics on sales, inventory, staff, and much more. This secures financial control of every business, through cash management and integrations with payment service provides. Easy-peasy.
Streamlining business operations
At the same time as the system is simplifying the life of restauranteurs by streamlining
business operations, it enhances the customer experience.
As margins get tighter in the food and beverage industry, it is of high importance that the POS supplier of your choosing understands your challenges and provide true value by optimizing the system's functionality to your needs.
Integrated POS systems supports:
Reporting and analytics
Loyalty programs and gift cards
Loss prevention
Finance and Invoicing
Integrated payment terminals
& integrations:
Inventory management
Staff management
Reservations and bookings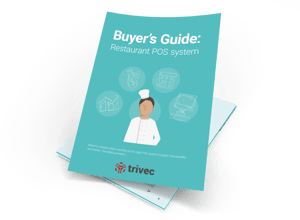 Get a complete overview of what to look for in a POS system, the importance of having one, how you choose the right one, trends that influence the development of the POS-systems in the future and how Trivec could be an option for you in our complete buyer's guide. We will also provide you with checklists to use when mapping out your needs and comparing suppliers. Download below.