Not only is the right POS system a question of wants and needs, but also regulations and unavoidable trends. Read more below.
Regulations
Data from certified POS systems must be digitally archived. Data from this system must be made available to the service verifier. For more details, solicit legal guidelines in your country.
New concepts and channels to increase revenue
Invest in a POS system that will grow alongside your business. Adding a deli, or take-out service? The right system will allow you to do that. Piece of cake.
Kitchen systems – printers and displays to maximize quality and accuracy
Integrate printers and kitchen displays with your POS and track kitchen performance. Digital kitchen displays will help you improve efficiency, enhance food quality, increase speed of service, and reduce errors further.
Centralized control of menus and promotions
Enable your restaurant to provide great guest experience across several locations by keeping menus, prices and promotions aligned and consistent. Reduce time (and cost)
spent adding/removing menu alternatives and promotions through a centralized restaurant POS system. Setup new menu items and go live at all locations simultaneously.
The perfect guest experience
Today, customers expect unique, personalized experiences and innovative food. Succeed, or the customer will not return. The right POS will allow you to provide the perfect experience for your guests and keep your operation running smoothly to maximize repeat business. Combining mobile tablets, integrated payment terminals, and an intuitive POS interface will ensure meeting customers wants.
Data and analytics to help you save, and make more, money
A restaurant POS system contains details of every transaction, which makes it the most essential tool within your business. Reporting and analytics allow you to gain insights about food waste, overstaffing and even theft. Costs that could kill your business. By giving the right people access, you can spot losses (and wins!) in time to act.
Mobility
Mobility is and will continue to redefine service within hospitality. From speeding up service time by adding mobile tablets and integrated payment terminals to accept payments without having to leave the table, to accepting mobile orders direct from guests and allowing your managers to access mobile reporting on smartphones.
Loyalty to maximize
revenues
The right POS will encourage you to implement a loyalty program of some sort. This helps increase visits, improve customer experience through personalization, run targeted marketing promotions, and gather data on your guest preferences and behaviours.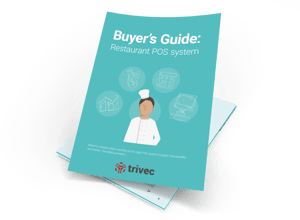 Get a complete overview of what to look for in a POS system, the importance of having one, how you choose the right one, trends that influence the development of the POS-systems in the future and how Trivec could be an option for you in our complete buyer's guide. We will also provide you with checklists to use when mapping out your needs and comparing suppliers. Download below.