Trivec is not a one-size-fits-all type of POS system. It is a customized system
fit to your needs. The Trivec POS system, Domino, gives businesses from food
trucks to restaurants to hotels the ability to organize and control sales, costs,
staffing, reservations, invoicing and more from one place – even when you don't
have Internet connection.

Trivec has everything you need to digitize your business; from apps to help your
customers find you and order, to POS systems (mobile and stationary), kitchen
displays, pagers, beverage dispensing systems, a range of payment options and
much more – along with a large ecosystem of integration partners

All displayed in our web service My Trivec. Log on to the My Trivec dashboard
and see your sales numbers in real time, compare different locations and extract
different reports. Add-on services such as finance, inventory, staffing and more
give you an even more complete overview of how your restaurant is doing and help
you be more profitable.
---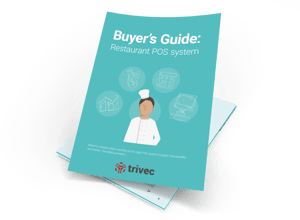 Get a complete overview of what to look for in a POS system, the importance of having one, how you choose the right one, trends that influence the development of the POS-systems in the future and how Trivec could be an option for you in our complete buyer's guide. We will also provide you with checklists to use when mapping out your needs and comparing suppliers. Download below.
---
Want to learn more about how Trivec could grow alongside your business? Read more here, or contact us and let's chat over a coffee – our treat!