In my last blog post, I talked about the importance of setting website goals. Two specifically. Based on these goals build a clear structure, so visitors easily know what to do. In today's blog I will focus on how you reach and attract new customers and drive traffic to your website with the use of social media.
The power of social media for restaurants – find your target audience
If you are not sure that social media is something for you, I want to share some numbers with you: Instagram has over 300 million users and over 60 million photos are posted daily. In addition, food and beverage related content is by far the most popular content for people to share. Also, Facebook reports to have over 1.6 billion daily active users. So, whether you are on social media or not, the chances your guests and potential guests are – are massive.
Before you get started and setting up your business account on different social media platforms and start producing content you need to start from the beginning. Who is your target audience? It is crucial to have your ideal customer person identified, as this is the person your social media content and website content will be created for.
Add contact information to your restaurant on the social media profile
When you set up your social media accounts, such as Instagram, it is good to always include opening hours and contact information in your profile. The fewer clicks to find your restaurant, the better.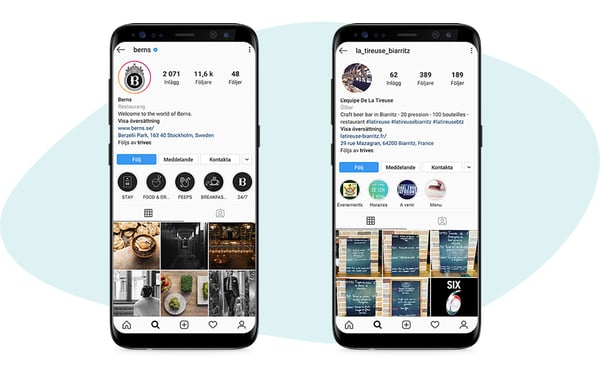 On Facebook you can easily add location(s) and opening hours to your business profile along with popular times to visit your restaurant, phone number and menu, etc.
There are also other features to a Facebook page that you can take advantage of. For example, you can:
Add a "Book A Table" button that takes your visitor straight to your table booking
Specify the type of food you serve
Upload your menu
Accept reviews (important to always answer on both good and bad reviews) and make sure to follow up
Add other relevant information such as: child-friendly, take away, good for larger parties, etc.
Use Facebook's 'multiple locations' if you have more than one restaurant
If you have several restaurants within the same brand, there is a feature in Facebook called "multiple locations". To activate this feature, you need to be an administrator. The advantages of using the multiple locations feature is that you have all your Facebook pages gathered in one place with a main page and sub-pages. You can see comments and reviews from each restaurant, which you can't do if you only have one Facebook page for several restaurants.
You can also post deals for a specific restaurant and you can share content with your subpages to your main page. Your local restauranteurs can be given access to only their page, which can simplify the flow of posts. Another option is for the head office to manage all pages. Of course, having multiple pages is not for everyone, and with multiple pages – there is more content to create and more places of interaction to keep track of.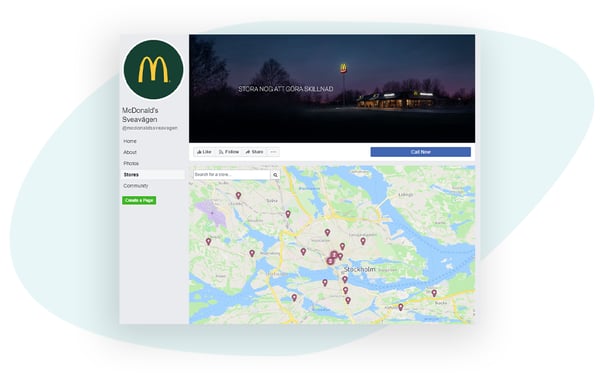 Post content relevant to your target audience on social media
Creating interesting content that is both relevant and entertaining is not easy. A survey conducted by Sproutsocial in the United States showed that the most annoying thing companies can do on social media is:
Post advertising posts
Use slang
Impersonal posts and accounts
Try to be funny when they are not
Not respond to messages, comments and feedback
Think of social media as when you start communicating with new people in real life at a party or a dinner. You would not just be talking about yourself – instead you would ask questions, listen and engage in these discussions. That is what social media is today.
What time of day should you be posting to social media?
In the beginning, you will have no idea what times and days of the week your audience is the most engaged on social media. You need to test the waters and see when people engage with your content. Do not worry – there is a great number of different tools that can help provide you with insights on when people engage with your content, in addition to facilitating the creation and publishing of content on social media. Here are a few example of great tools: SocialPilot, Sendible, HootSuite, eClincher, etc.
You can also use some common sense. If you are a restaurant that is open past midnight, your target audience might be sleeping at 08:00 AM. Also, it is not the smartest to share "today's evening drink" at the time when most people just woke up and all they can think of is coffee and breakfast.
Link back to your website from your social media accounts
In order to drive traffic to your website, one thing you can do is to add a link in your profile. For instance, on Instagram you can add the link to your profile, and on Facebook you can link pictures, photos, content that will take your visitors to your webpage.
Depending on the type of information you want to share, creating a newsfeed on your website could be a great idea. There you can share news about the restaurant, menu, etc. and share details about what is happening right now at your restaurant. For example, you can share that you have a DJ playing next Friday. Instead of just uploading a picture and a text, you can link to your website where you share more details about the event.
Chances of the visitor checking out your menu and even booking a table is a lot bigger than if they only read about the event on your Facebook page. However, keep in mind that the content you share with your followers need to add value to the post.
To link to website from Facebook
Select photo or video and create a photo carousel. You can add pictures, a link and relevant text to your post.
To link to website from Instagram
Add the link to your profile. If you have the swipe up functionality (10 000+ followers) add the link to your story and let your followers "swipe up".
Research and use relevant hashtags on social media
In order to find relevant conversations and attract new followers based on your target audience, it is smart to research #hashtags used by a groups of people are talking about the same topic. For example, a relevant hashtag could be #restaurantparis or #dinnertips. Also, research which hashtags influencers in your field use that might be relevant to your target audience.
Start liking posts and share what you can and your knowledge. Most people who use social media want to be entertained, so think about how you can get into discussions in a smart and fun way.

Read more about our pos for restaurant.