We've combined our many years of experience in the hospitality industry with advice from experts in the global and European restaurant industry. Here are the most important trends you need to know to survive and prosper in this new and exciting climate.
Convenience continues to drive purchasing decisions
Today's consumers are time-strapped, tech-savvy and value-conscious. They are accustomed to using technology to simplify their lives and they want their dining solutions to be just as fast, flexible and convenient as the rest of their purchasing decisions. Convenience is so important, in fact, that it was listed as a top dining-out concern by a full 82% of consumers surveyed in Mintel's Global Food and Drink Trends 2019 report. And while convenience is something that has traditionally been associated with fast food, the skyrocketing popularity of fast casuals, mobile ordering and delivery make it clear that this is a trend no restaurant can afford to ignore.
So how do restaurants meet this consumer demand for convenience? One is by offering tech-enabled solutions such as online ordering and mobile payments. According to Deloitte research, 40% of customers prefer to order online and they spend more when they order online or through an app. If a location lets customers use technology to place an order, they'll come back 6% more often and spend 20% more each time.

* Mintel's global report on food and drinks trends for 2019
Green goes mainstream − Customers want healthier and more eco-friendly options
The demand for healthier and more environmentally conscious eating continues to have a great impact on restaurants. An increasingly ageing population, escalating rates of obesity, diabetes and food intolerances, and requirements for wellness and authenticity from Millennial and Gen Z newcomers is bringing about a huge transformation in the foodservice industry. Customers today want fresh and healthy food and they want to know its background story.
While sugarless and "free from" options continue to be top priorities for diners, one of the biggest emerging trends to watch is meatless protein. GlobalData reports a significant jump in the number of "flexitarians" worldwide over the past few years and predicts that plant-based protein options will continue to rise in popularity. And a number of other studies back this up. In a recent survey of 4000 Nordic consumers, Fazer found that 41% of Finns and 31% of Swedes are interested in plant-based proteins as an eco-friendlier alternative to meat, and even in meat-mad France, 41% of French consumers are actively avoiding or reducing consumption of red meat, according to Statista.
The bottom line is that wellness is smart business. In a recent study, Technomic found that 40% of consumers are more inclined to visit restaurants that provide healthy options – even if that's not what they order.
Bridge the generation gap − The restaurant industry must adapt to Millennials and Gen Z
Millennials and Generation Z, that is, people currently under 35 years old, will represent six out of ten people on the planet in 2020. Understanding who they are and how they differ from previous generations is absolutely essential to any restaurant that wants to survive the coming decades.
The younger generations are hyperconnected and see technology not just as a means to simplify their lives, but as an integral part of their existence. Not only will they use technology to find a restaurant online, they will also expect to be able to place their order via an app or POS system, arrange delivery through a third-party provider, and pay using their phone. The restaurant they choose will also have a strong social media presence, and they will likely contribute to that presence by rating or uploading pictures and descriptions of their own dining experiences.
Considering the huge potential a social media "halo" offers to boost spend among younger consumers, this is something every restaurant looking to increase margins should take note of. Because this generation is also extremely value-conscious. In fact, Technomic's 2017 Value and Pricing report found that while consumers in general are 37% more likely to seek deals than two years previously, Millennials are 46% more likely.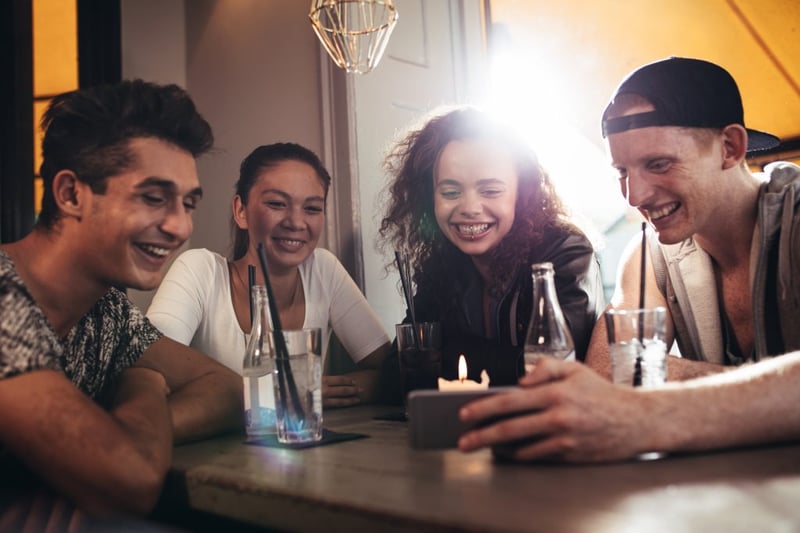 Get up close and personal − Unique, personalized experiences and innovative food
In a world increasingly dominated by digital screens, foodservice is one of the few industries left that can offer unique and memorable real-world experiences. And that is exactly what today's consumers are looking for in their restaurants. Outstanding staff, innovative food and concepts, DIY options, and a balance between personalized service and technology will be the things that make or break restaurants in the future.

A recent survey by Datassential reports that more than a third of consumers choose restaurants based on "new and interesting foods." And while exotic spices and creative dishes continue to drive sales, especially among younger diners, innovative food just isn't enough anymore. Restaurants today are much more than a place where people eat. Enter the age of restaurantainment – restaurants with entertainment venues and concepts that promote a certain theme or lifestyle. A café geared at gamers, a nightclub that is only open during the day, and a secret-agent-themed restaurant where you have to have a password to get in are all examples of ways foodservice operators today are catering to consumer demand for unique and customized experiences.
Digitize to survive - Innovation in digital services will continue to grow
While 3D-printed food, augmented reality menus and artificially intelligent equipment are still years away for most restaurants, technology is here to stay, and the potential it offers to boost business can no longer be ignored. Deloitte reports that customer spend increases by 20% and repeat business by 6% when customers can use technology to place an order. And while only 3% of foodservice visits in Europe's Big 5 currently involve the internet or mobile apps, the number is already three times higher in the US and on the rise globally.*Europe 2018 Foodservice Outlook, NPD Group
According to Euromonitor, the role of human workers in the restaurant experience will go through a radical transformation over the next 20 years as robotics and automation technology begin to see widespread use. But that doesn't mean that staff will become obsolete. Instead, digital innovation will allow restaurants to focus more on design, menu planning and – above all – outstanding service. The operators that can use technology to cut margins while enhancing the customer experience will be the ones that thrive in the increasingly competitive foodservice industry of the future.

If you are interested to download a free copy of the complete Trend Report, you find it here.